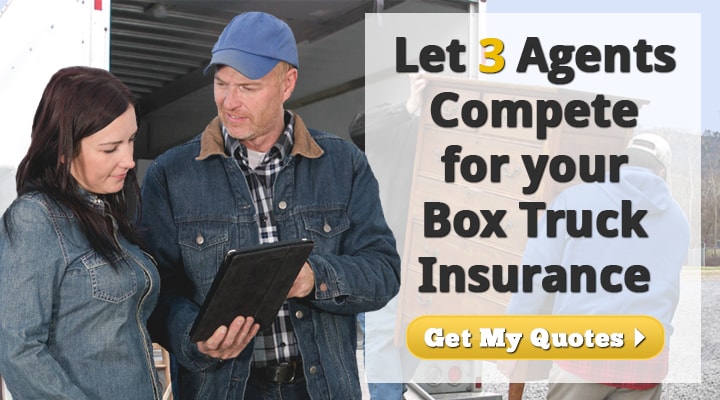 Finding insurance for your moving company can be difficult. That's why we've set up this Request 3 Quotes form. You fill out one small form and we connect you with three moving truck insurance companies at the same time. This way you can have all the information in front of you as you're picking a policy. They compete and you save!

Moving Truck Insurance Companies Offer Different Coverages
The primary aspect of any good moving truck insurance policy is its coverages. Each company will offer you different coverages. It's important to know which coverages are essential to your business and which coverages are unneccessary. The most common moving truck insurance coverages are:
Liability Insurance – This is required coverage that protects the property of others, including vehicles.

Bodily Injury – This pays for any medical costs of others if your vehicle harms another person.
Property Damage – This pays for repairs to vehicles or replacement vehicles if you damage someone else's property.

Physical Damage Coverage – This protects your vehicle from damages caused by yourself or others.

Collision – This pays for any costs associated with that wreck.
Comprehensive – This pays for additional costs, like costs resulting from vandalism, fire, theft, or damage caused by animals.

Motor Truck Cargo Insurance – This is legally required for home movers and it protects the goods hauled in your truck.
Non-Trucking Liability Insurance – This is a type of liability coverage that protects your vehicle if you drive it when you aren't working.
General Liability – This covers your business from lawsuits resulting from someone getting hurt on your property.
How Moving Truck Insurance Companies Determine Price
One reason not all policies cost the same is because companies calculate their prices differently. When a company or agent is looking at your information, they're looking at a few things in particular:
What coverages you want.
Your location and how much area your business covers.
The value of your moving trucks, including their ages, their makes, and their models.
The driving records of all your drivers, their driving violations, their previous claims, and how much experience they have driving commercial vehicles.
Moving Truck Insurance Companies Offer Discounts
One easy way to save money on your insurance policy is by simply asking about what discounts the company offers. Some common discounts include:
Bundled Coverage Discount
If you insure all your vehicles with one provider, they can offer you a reduced price. Similarly, if you choose to get your business insurance bundled with your vehicle insurance, expect a discount.
High Deductible Discount
If you opt to pay more out-of-pocket following an accident, the insurance company wil offer you a lower premium.
Yearly Payment Plan Discount
If you choose to pay yearly instead of monthly, the insurance company may lower your overall rate.
Experienced business owner discount
If you've been in business for a long time, the insurance company views you favorably and may offer a discounted rate.
Compare Several Moving Truck Insurance Companies at Once
Whether you're searching for insurance for the first time or you're trying to replace old coverage, the best thing you can do to ensure you get the best deal is to look at multiple companies at once. We've made this easy. Visit our Request 3 Quotes page to get a quote from three seperate insurance companies. They compete. You save.