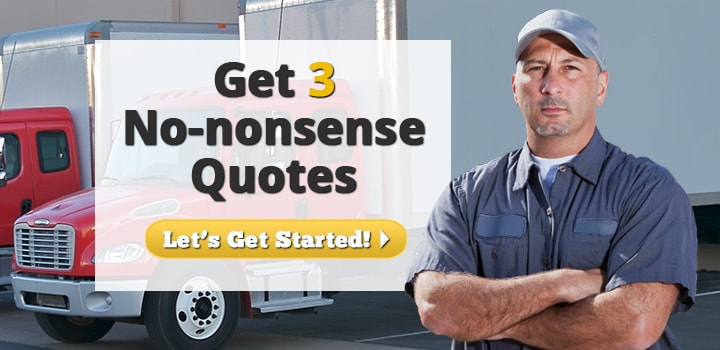 Box truck insurance is one of the biggest expenses facing your business. It's important to find a policy that completely covers your vehicles and fits your budget. The best way to save is to get three quotes at once.

1. Compare Box Truck Insurance Coverages and Save Money
There are a lot of insurance companies out there offering similar policies at very different prices. The best way to find a company that offers you the best price is simple: compare policies from many company. What's not so simple is getting a straight answer from an insurance agent to begin with.
That's why we've set up this quote page to get you in touch with mulitple agents at once. You fill out one form and they'll each compile a quote for you. You compare their quotes and select the one that works best for your business.
2. Get the Best Coverages
A box truck insurance policy is useless if it doesn't protect you when you need it. So you want to be fully covered. But also you don't want to buy frivolous coverages that you'll never use in a million years. Here are the essential coverages that should protect you and your business, no matter what.
Coverages:
Liability Insurance – Legally required coverage. Protects the property of others.

Bodily Injury – Pays for medical costs if your vehicle harms another person.
Property Damage – Pays for repairs to vehicles and other property if your vehicle causes damage.

Physical Damage Coverage – Protects your vehicle from damages.

Collision – Pays for costs associated with a wreck.
Comprehensive – Pays for other costs, like those resulting from vandalism, fire, or theft.

Motor Truck Cargo Insurance – Legally required coverage for home movers. Optional for everyone else. Protects the goods hauled by your truck.
Non-Trucking Liability Insurance – Liability coverage that protects your vehicle during non-business hours.
General Liability – Coverage that protects your business if someone is hurt on your property.
3. Tweak Your Policy to Match YOUR Needs
Box truck insurance policies come with serveral options that affect how much you pay and how thoroughly you're covered. Those options are:
Your Deductible. This is how much you pay out-of-pocket after an accident deemed your fault. If you have a $1000 deductible, you will pay the insurance company $1000 and they will pay for everything else. The higher your deductible, the lower your premium.
Your Limit. This is the maximum amount the insurance company will pay after an accident. A higher limit will increase your premium.
Your Payment Plan. How often you pay your premium. It can be monthly, quarterly, or yearly. The insurance company might give you a discount if you choose to pay yearly. Be sure to ask your agent.
BONUS TIP: Renew Your Coverage Annually
Insurance prices tend to creep upward the longer you stick with the same company. To keep everyone honest, be sure to contact your agent yearly to check up and discuss your policy. If he wants to increase your rate, it might be time to Compare Other Box Truck Insurance Companies.