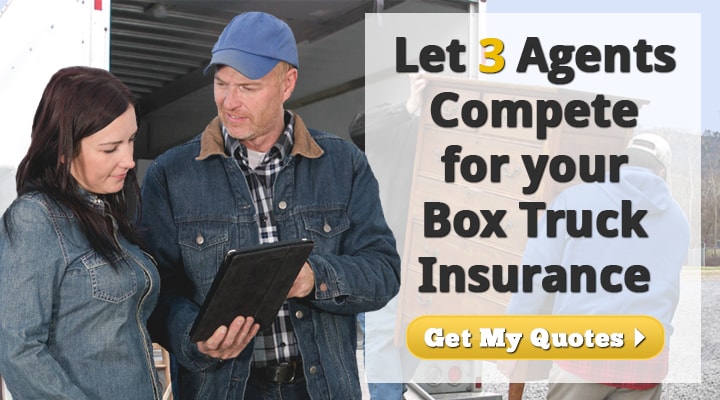 The cost of box truck insurance depends on many variables. These variables differ from agency to agency. That's why it's so important to shop around for box truck insurance: you want to make sure your insurance doesn't cost more than it has to.
We've set up a single form that gets box truck companies in touch with three insurance agents at once. The agents compete for your quote and you get the best cost. It's easy to get started, just fill out this form!

What is the Average Cost of Box Truck Insurance?
After an agent learns about you, your driving experience, your business, and the coverages you need, he can tell you exactly how much your insurance will cost. But before you even speak to your first agent, it's smart to know what the industry averages are. That way you know if you're getting a fair deal.
A business that owns a single box truck and that has been in business for at least three years without a reported accident can expect to pay between $3000 and $5000 a year for box truck liability insurance. New businesses can expect to pay a little bit more than that.
What Affects My Box Truck Insurance Cost?
Your overall cost is mostly reflected in the coverages you choose, the driving records of your employees, your location, your area of operation, and the size and age of your business. Other factors include:
How much your vehicles are worth
The structure of policy (bundled vs. individual coverages)
Your payment plan
How to Lower the Cost of Box Truck Insurance
Ask about Discounts – Insurance companies can reduce the cost of your premium for a lot of reasons. They often have discounts for airbags, for clean driving records, and for yearly payment plans. Be sure to ask what discounts a prospective company offers.
Pay in fewer installments – Box truck companies can see their yearly premium drop by up to 10% by just paying in yearly installments instead of monthly installments. Though this sort of payment plan isn't feasible for many businesses, it is the cheapest meathod if you can afford it.
Shop around – The easiest way to get a lower premium without sacrificing coverage is to comparison shop. Be sure to contact several insurance agents before committing to a policy. We've made this easy for you. Just use or free request three quotes form to get in touch with three agents at once. They will compete to earn your business.