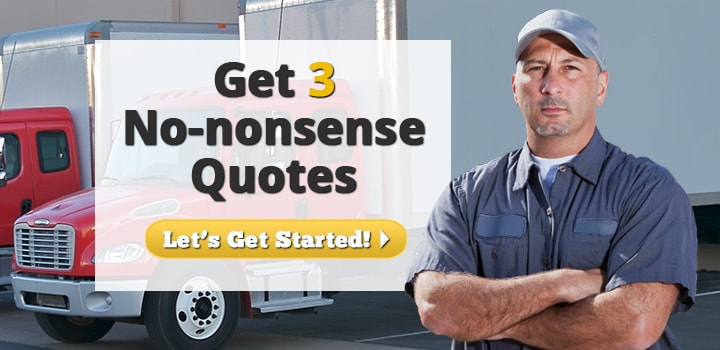 The rate for straight truck insurance varies on several factors, but you can expect to pay between $4,000 and $10,000 per truck for liability and cargo. But the only way to know for sure is to speak to one or more agents.
Get three rates from three straight truck insurance agents by filling out one free form. We get you in touch with the agents and they offer you a rate. From there you can select the policy that works best for your business. Get started now!

How Straight Truck Insurance Rates are Calculated
The biggest factor that determines your rate is the number of vehicles you need insured. The more straight trucks you have, the less your per truck rate will be.
Also, the coverages you choose to get will impact your final rate. A bare bones policy will obviously cost less than a full policy.
Other factors that go into determining your rate include:
Your driving record and details about your business
The value of your trucks. That is usually calculated from their age, make, and model
Your state
Area of Operation
What goods you normally haul
Ways to reduce your straight truck insurance rate
There are certain things you can do to reduce your per-truck rate.
Ask for Bundled Coverage. If you need general liability insurance and business owner insurance, ask if your straight truck insurance company offers these coverages as well.
Opt for High Deductibles. While it's sometimes risky, you can lower your rate by choosing high deductibles.
Pay yearly. The more you pay the insurance company up front, the less your overall coverage will be. So go for a yearly—not monthly—payment plan.
Shop Around. Look at policies from multiple straight truck insurance agencies. The easiest way to do this is to use our Request 3 Quotes page, where we get you in touch with three agents at once. Get started now!