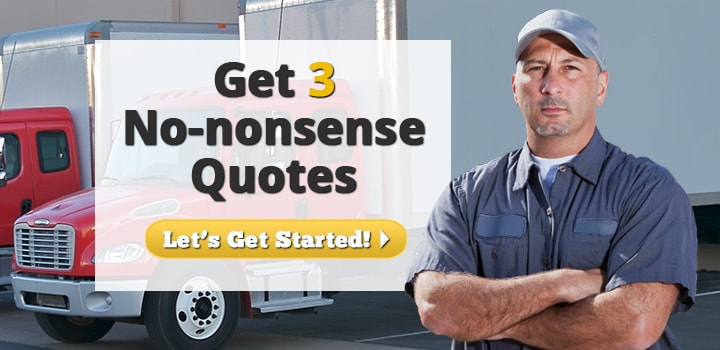 There is only one surefire way to get the best moving truck insurance quote. Shop around. The more agencies you compare, the more likely you are to strike gold and get that cheap quote.
We set you up with three qualified moving truck agents in your state who each offer you a different quote. They compete and you select the winner. There's no question whether you're getting the best price. You know you are.

How Moving Truck Insurance Quotes are Determined
Why don't all insurance policies cost the same? Simple. Different insurance companies calculate risk differently. An agent from one company isn't looking for the same things as an agent from another company.
Some companies base prices solely on the coverages you want. Some charge more if you're located in a certain state. Some charge more for certain moving truck makes and models. Most will charge more if your drivers have iffy driving records.
5 Different Tactics to Save Money on Moving Truck Insurance
There are certain things you can do to save money. Here are the five best.
1. Ask for Bundled Coverage.
Don't just get a quote for your moving truck insurance. Get a quote for your business insurance too. Most insurance agencies are happy to sell you all the coverage you need and they will offer you discounts if you get it all under one roof.
2. Opt for High Deductibles.
After an accident, you are expected to pay a deductible if you're at fault. You choose this deductible when you set up your policy. Choose a high deductible, and your premium will go down. Just pray you don't get into any accidents!
3. Pay yearly.
Your payment plan affects your rate. One way to lower your quote is to set up a yearly payment plan. When you pay everything at the beginning of the year, the insurance company will give you a discount.
4. Ask for an Experienced Business Owner Discount.
If you've been in business for long enough, you might qualify for an experienced business owner discount. It doesn't hurt to ask.
5. Shop Around.
We can't stress this enough. The best way to save money on moving truck insurance is to look at policies from several agencies at once. We've made this part easy. Fill out this form and we'll connect you with 3 agents who will fight for your business.