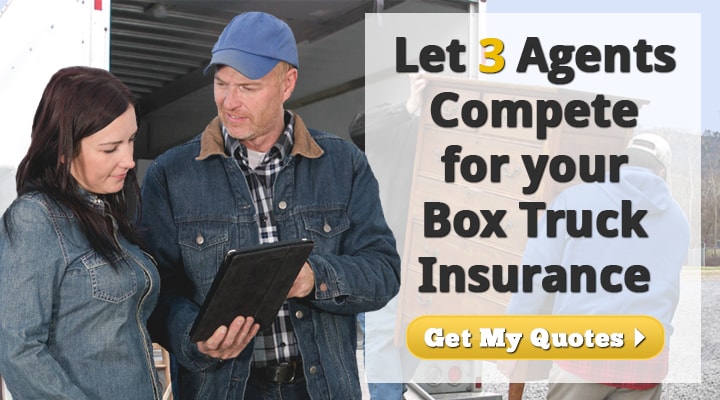 What can I expect to pay for box truck insurance? That's hard to say. The rates for box truck insurance policies range between $2,000 and $10,000 a year per truck. You won't know how much your policy is until you speak to an agent.
Finding an agent and comparing prices used to be difficult, but we've streamlined the process. Simply fill out a single, free form and we'll connect you with three box truck insurance agents today.

Who needs box truck insurance?
Insurance agents consider box trucks to be anything from cargo cutaways to ice boxes to moving trucks to reefer trucks to tilt cabs. Businesses that commonly use box trucks include:
Couriers
Expeditors
Retail Operations
Household goods movers
Furniture delivery companies
What affects my rate?
Your rate is the culmination of several facts about your business. Your insurance agents will look at things like:
The driving records of your drivers
The coverages you want
The value of your box truck (determined by its age, make, and model)
Your state
Your radius of operation
The filings you need
So will my rate be high or low?
If you have a large fleet of experienced drivers without moving violations, you can expect a lower rate. If you live in a safe state for drivers, you can expect a lower rate. If you pay on time and on a yearly payment plan, you can expect a lower rate. Basically if you run a safe, responsible company, your rate will be lower than your competition.
How can I proactively get a lower rate?
Other than by running a ship-shape business, there is one major thing you can do to reduce your rate. It's simple. Just shop around. Compare rates from several insurance agents at once and pick the policy with the smallest pricetag. The more insurance companies you have access to, the less you'll pay.
Easier said than done, right? Box truck insurance companies are notoriously hard to find. Well, that's why we've set up this service. We get you in touch with three agents for free and you pick the one you like the best. There's no commitment on your end and it's easy to get started.