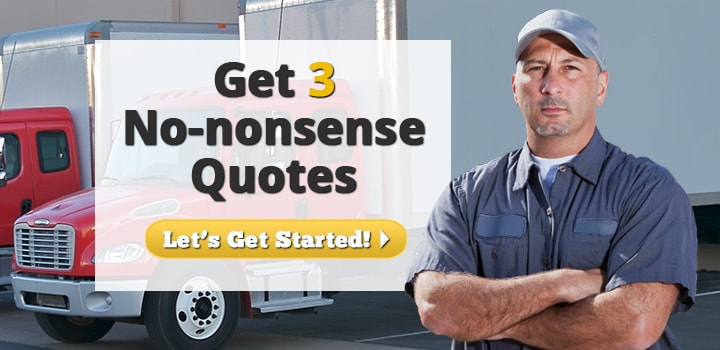 It's important for any business to get the best insurance possible. This is doubly true for any company that owns box trucks and must purchase box truck insurance. The problem is: there aren't that many box truck insurance companies out there.
With our Request Three Quotes tool, you can get in touch with three insurance companies that sell box truck insurance and compare their policies for yourself. Get started now!

Box Truck Insurance Companies Offer Different Coverages
The fist thing you're looking for in a box truck insurance company is whether they offer adequate coverage. You don't want to find yourself in an accident and learn that your coverage isn't sufficient. Here we've outlined the most common coverages that box truck businesses look for.
Liability Insurance – No matter who you are or where you live, you need this coverage. It is legally required in all states. It protects others from your negligence. If you're in an accident and deemed at fault, this insurance pays for repairs to the wronged party's property.
Bodily Injury – Part of liability insurance, this pays for any medical expenses incurred.
Property Damage – Another part of liability insurance, this pays for repairs to vehicles or repairs to other property.
Physical Damage Coverage – When one of your vehicles is in an accident—any accident—this coverage pays for repairs or a replacement vehicle.
Collision – Part of physical damage coverage that protects you during a wreck.
Comprehensive – A less common part of physical damage coverage that protects you from vandalism, theft, and other non-collision damages.
Motor Truck Cargo Insurance – If you move home goods, you need this coverage. Even if you don't move home goods, it's a smart idea to have. This coverage protects the goods that you haul in your truck.
Non-Trucking Liability Insurance – Liability insurance for anyone who uses the box truck while not explicitly working.
How Box Truck Insurance Companies Determine Price
Several factors go into calculating the price of your box truck insurance. Different companies have different formulas, but most companies look at:
The coverages you want
Where your business is located
The radius you'll be covering
The value of your vehicles
The driving records of your employees who'll be driving the box truck
How to Get the Best Price from a Box Truck Insurance Company
Bundle Your Coverage
Don't just get your automobile insurance from the company, get your business insurance from them, too. They'll usually offer you a discount if you commit to using them for all your insurances.
Pay Yearly
If you can, try to pay in yearly installments instead of month-to-month. You'll usually see your overall price drop.
Compare Several Box Truck Insurance Companies at Once
Most business owners find that they can reduce the cost of their insurance by thousands just by comparing several agencies at once. With our Request 3 Quotes tool, we get you in touch with three agencies at once who'll fight for your insurance. Get started now!